Hometown:   
Oklahoma City
(Oklahoma, USA)
Languages:
1st: English
2nd: Japanese
(JLPT:N3)
My weekly schedule:
Japan Standard Time.
Mon: 7:00-13:00
Wed: 11:00-13:00
Fri: 11:00-13:00
If you are a 1st time user, just go

and choose BOOK! to complete your trial booking.
Hobbies:
Travel, experiencing new cultures, watching anime, studying Japanese, video games, and drawing
Dear Customers:
Hello! My name is Ashley. I'm from Oklahoma. Since I was very young, visiting Japan was my dream. I have always been interested in Japan's language, culture, and history. I traveled to Japan once during University and then in 2012 I did a study abroad program in Yamagata for one year. I majored in East Asian studies, with a minor in Japanese. After graduation, I returned to Japan, got married, and now I live in Tokyo. I enjoy talking with people and would love to help you with anything I can! I am looking forward to meeting you!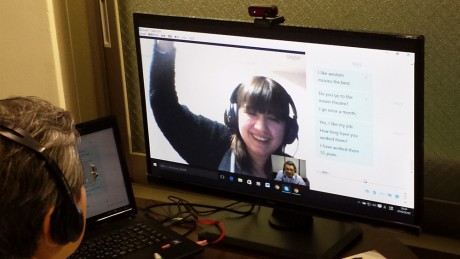 Dear International Friends:
Hello! I'm from Oklahoma. I have lived in Japan since 2014. I have experience traveling to Japan for fun, studying abroad, working as an ALT, and even getting married in Japan. I would love to talk to you about my experiences or answer any questions you may have about Japan. I look forward to meeting you!
Customers' Voice: