Hometown: 
La Union (El Salvador)
Languages:
1st L: English, Spanish
2nd L: Japanese 
(JLPT:N1)
Translator (English-Spanish-Japanese)
My weekly schedule:
Japan Standard Time
Sun: 8:00-20:00
Mon-Fri: 18:00-21:00
Sat: 10:00-22:00
Japan National Holidays: 10:00-20:00
If you are a 1st time user, just go

and choose BOOK! to complete your trial booking.
Hobbies:
traveling, exercising, cooking, Japanese calligraphy, painting and Latin dancing
Dear Customers:
Hello everyone! I was born in the US but spent a great part of my childhood in El Salvador, where all my family and relatives are from. I have lived in San Salvador (El Salvador), New York City, Houston (Texas) and Hirosaki (Aomori). I came to Japan in 2008 and have recently started a new life here in Tokyo.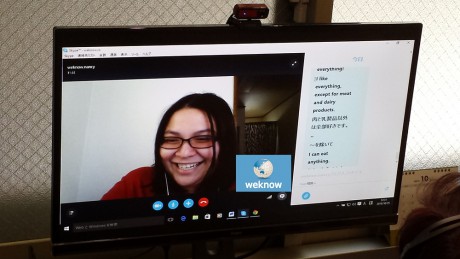 Dear international friends:
(Spanish following English)
I have visited many countries and can communicate in various languages. I would love to share many stories and enjoy talking with you about culture, travel and life in Japan and learn more about other countries while at it. It's all about the human connection and enjoying life!
He viajado a varios países y domino varios idiomas. Me encantaría poder compartir todo tipo de anécdota y platicar sobre cultura, viaje y sobre la vida aquí en Japón mientras aprendo más sobre el mundo al mi alrededor. Los lazos que nos unen como humanos son los más preciosos tesoros y hay que disfrutar de la vida cada día.