↓(One Time One Service Only)
↓
↓
↓
↓
◎ Let us choose the adviser for you! If you have a preferred time for your session, and not sure who to choose, you can select the 'first available' option and then click 'Next'. (A suitable adviser will be allocated to you for the booking time you selected.)
◎ Choose your favorite adviser! If you have a specific adviser you want to talk to, locate his/her name using the drop-down menu, then click 'Next'.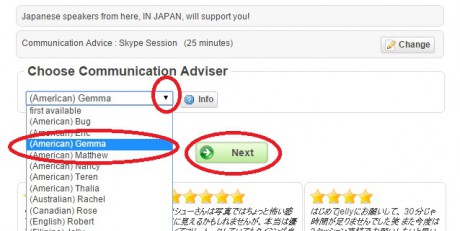 ↓
↓
↓
↓
↓
↓
↓
*If you don't receive any confirmations, please set 「weknow@interstate.co.jp」 into your email receiving list.  
*Changes or Cancellations are due 12 hours prior to your scheduled session. 
5 minutes prior to your scheduled session, please add new adviser in your Skype contacts!
Then, make sure your online status is NOT 「Invisible」or 「Offline」.  
Also check your audio & camera if you have a time.  
Your adviser will call you at the time you book. 
Your session! starts!